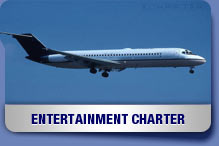 Entertainment & Production Air Charter Benefits

Expert ability to handle the logistics of production movement including freight and cargo

Passengers board aircraft directly from ground transportation for convenience and security wherever available

24/7/365 operational support including flight tracking and on-site representation to brief airport staff and cabin crew

For more information, email us or call 1(800) 284-0068
Entertainment & Production Air Charter

AirCharter provides extraordinary Air Charter service for the entertainment and production industry. All of our aircraft can be customized to fit your requirements, whether it's a 737 to accommodate your symphony's musicians and instruments on board, or an Air Charter to handle transporting crew and equipment to remote filming locations.
We can provide you with non-stop, direct access to destinations that are not typically served by scheduled airlines, creating a much more convenient and luxurious travel experience for your passengers. Our aircraft can be configured for Coach seating for an economical approach to travel, as well as some can be outfitted with extremely luxurious first class seating.